KeyCastOW – keycast on windows
keystroke visualizer for Windows, lets you easily display your keystrokes while recording screencasts.
small footprint (one 100kb executable file)
green and portable, only depends on windows system dlls
prenty of settings for keystroke display
hotkey to turn on/off
No binary provided now.
Please checkout the code.
History
2017-01-29 2.0.2.5
2016-08-10 2.0.2.5
2015-06-08 2.0.2.3
2015-05-03 2.0.2.0
hold down modifier key to keep it on display, rather than repeat it
alignment setting, right alignment by default, so that the labels on dispaly is moving left when inline
a visual way to set position where the labels start
2015-04-12 2.0.1.0
new setting: Keyboard Auto Repeat, turned on by default, for example, if user holds down a, serials of a is generated. If the setting is unchecked, only one a is generated, until user releases the key and presses it again.
new setting: Quick Mouse Button Up/Down as Click, turned off by default, there are a ButtonUp and a ButtonDown for a mouse click in this case. When it's on, if the ButtonUp is closed enough with ButtonDown, it will be displayed as a Click.
2015-04-04 2.0.0.9
2014-12-19 2.0.0.8
2014-12-04 2.0.0.7
2014-10-24 2.0.0.6
Drag settings dialog to set position for keystroke display
2014-09-23 2.0.0.3
2014-08-27 2.0.0.2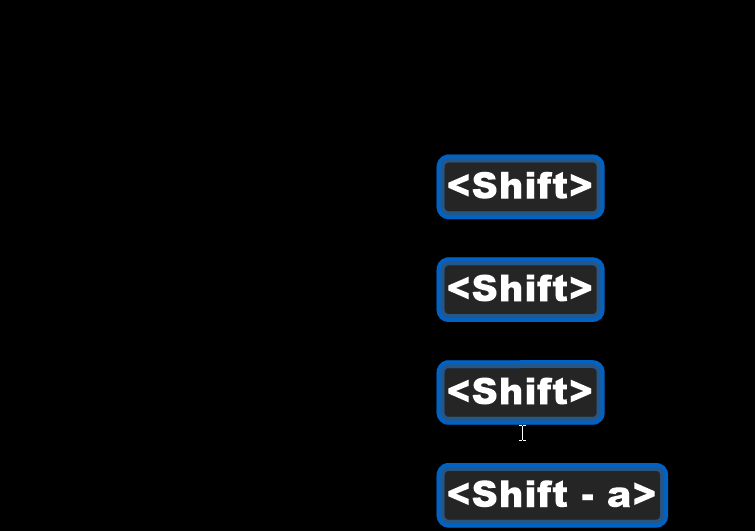 2014-05-26 2.0.0.1
flicker free
anti-aliasing rounded corner
opacity settings for text/background/border
settings preview in dialog
branding string on screen
fixed some bugs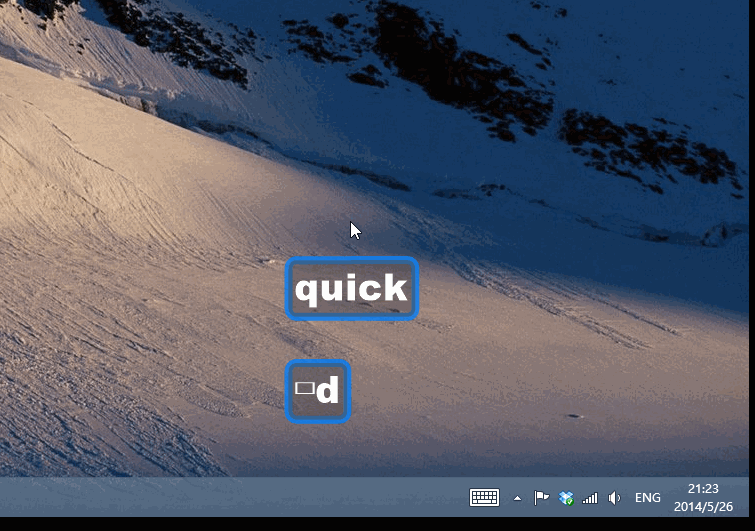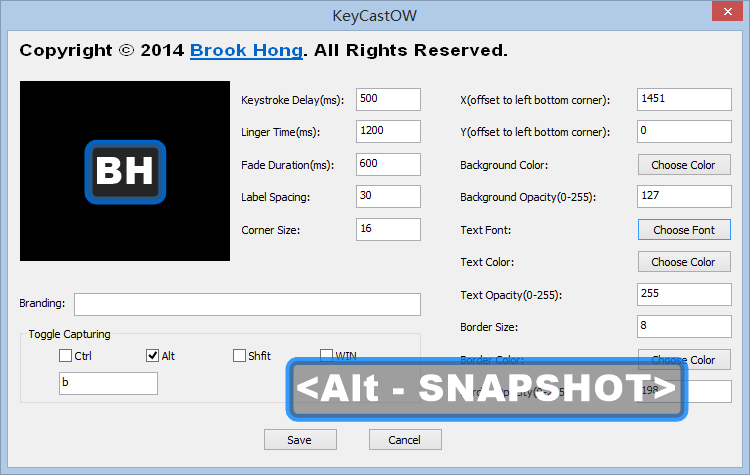 2014-04-28 1.0.0.1
As MAC user, I use keycastr, an open-source keystroke visualizer to create tech demo animation.
I'm also a Windows user, I googled alternatives of keycastr for windows several times. There are some, but none makes me happy like keycastr from MAC.
Thus one day in March of this year(2014), I finally started my own one – KeyCastOW, the OW after keycast means On Windows.
For some reasons, this is not open-sourced, but it's free.
For demo, here I'm using gVim under Windows with my vim configuration.
My <leader> key in VIM is s, so don't be surprised when you're seeing my actions started with s in normal mode. And I do have some window operations started with <Space>.
Here we go.